---
L'originale di questa pagina e' in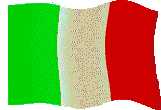 Last revised: 26/08/06
---
Elena Maffioli is already a concrete reality for Italian Archery in the Recurve Division.
Born in November 1984, she stars archery at 10, immediately winning the National Games for children of her age.
Since then, throught a continuous series of successes, she reaches the victory in the European Under 16 Cup 2000 and the Silver Medal at the World Indoor Junior Championships 2001. In May, 2001, she become one of the youngest girls to join the Italian National Olympic Team.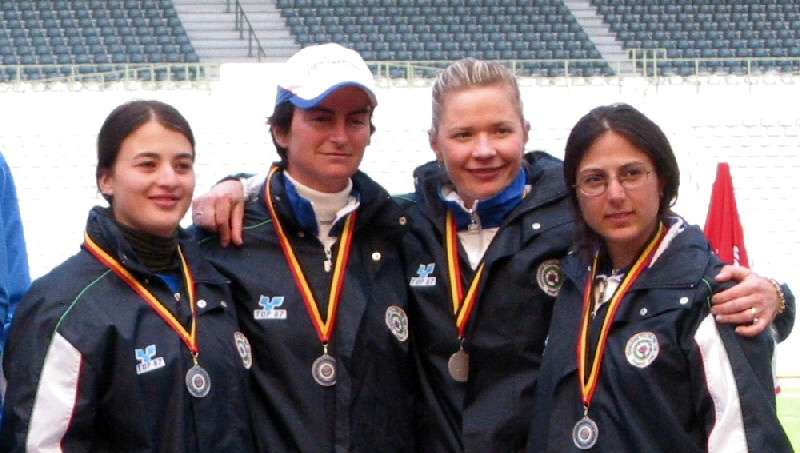 Silver Medal for Teams at the European Target Championship 2004 (with Lionetti, Ioriatti e Valeeva)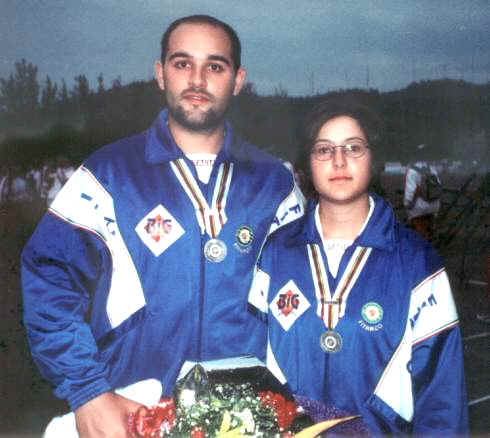 Silver Medal for Teams at the World target Championships 2001
(with Michele Frangilli, also Silver Medal for Teams)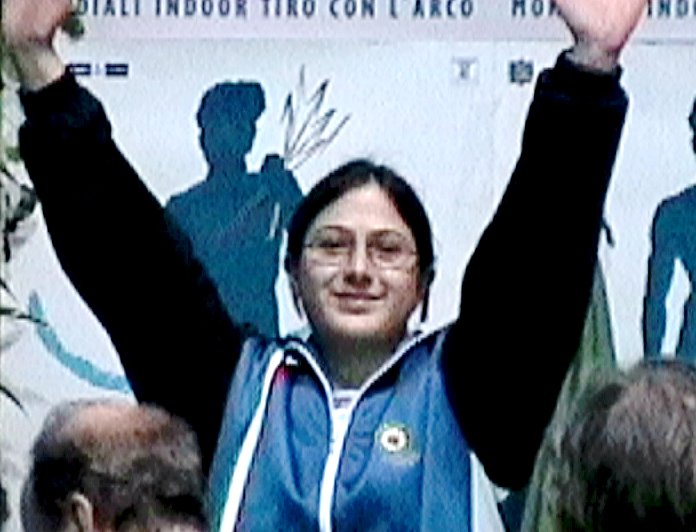 Silver Medal at the World Junior Indoor
Championships - 24 March 2001

Personal Information:
Born in Castellanza (VA) on 8/11/1984; resident in Gallarate (VA)
Graduated at the Artistic High School in Busto Arsizio (VA)
Studying at the Milano "Brera" Artistic Achademy
Shooting equipments
Riser Zenit by Best, Limbs Spigarelli Hiper Carbon by N-Products and Hoyt G3
Stabilizers Best Mercury
Sight Spigarelli Gran Prix II or Sure Lock
Button and Clicker Beiter
Arrows Easton ACE 780 , nocks Beiter, vanes Spin Wing

Italian Records

12 arrows OR Junior Women: 113 points (2002)
36 final arrows OR Junior Women: 313 points (2002)
900 Round Junior : 834 points (2001)
18 arrows indoor finals Junior: 171 (2001)
12 arrows indoor finals Junior: 117 (2001)
18 arrows indoor finals Cadet: 165 (2000)

Records with the National Team

70 mt Round Absolute : 1956 (2004) (with Valeeva e Lionetti)
OR 27 final arrows OR Cadet: 218 points (2000) (with Valentini and Ciurletti)
OR 2x27 final arrows OR Cadet: 429 points (2000) (with Valentini and Ciurletti)
27 Final arrows Junior Indoor: 250 points (2001) (with De Lucia and Matteucci)
2x27 Final arrows Junior Indoor: 486 points (2001) (with De Lucia and Matteucci)

Archery Story

1995 - 1st Children National Games ( Giovanissime Class)
1996 - 1st Children National Games ( Ragazze Class)
1998 - Italian Under 14 Indoor Champion
1998 - Bronze Medal at Italian Target Under 14 Championships
1999 - Silver Medal Under 16 Team at Indoor italian Championships ( with Cinzia Taiana and
Elena Sartori)
1999 - Italian Under 16 Target Champion
1999 - Competes in the European Under 16 Championships
1999 - Bronze Medal Junior Team at Target Italian Championships ( with Cinzia Taiana and
Elena Sartori)
2000 - Italian Champion Absolute Women Team Indoor (with Anna Moschini and Elena Sartori)
2000 - Italian Under 16 Indoor Champion
2000 - Italian Under 16 Target Champion
2000 - Italian Champion Team Under 16 Indoor (with Carla Frangilli and Anna Mendolia)
2000 - Competes in the European Indoor Championships in an experimental Senior Women
Team (27th place)
2000 - Winner of the European Under 16 Target Cup 2000
2000 - Competes in the World Junior Target Championships
2000 - 3rd at the Silver Arrow international tournament in Salice Terme (ITA)
2001 - 4th at the indoor tournament of the Nations in Nimes (FR)
2001 - Silver Medal individual and Bronze Medal for Teams (with Silvia Matteucci and
Darinka De Lucia) at the World Indoor Junior Championships in Florence.
2001 - Qualifies to her first azure shirt in the Senior Women Team, participating to the Cyprus
Gran Prix were she qualifies 15th individual and gets the SILVER medal for team (with
Valeeva and Franchini)
2001 - Participates to the World Target Championship in Beijing, getting the Silver medal for
teams (with Valeeva, Franchini and Allodi) and the 37th individual place.
2001 - Italian Junior Target Champion, Silver Medal at the Italian Absolute Target
Championship (loosing gold match against Natalia Valeeva),
Target Italian Champion for Absolute Women Team ( with Anna Moschini and Tanja
Spiesecke)
2002 - Bronze medal for Juniores at the Italian Indoor Championships
2002 - Participates to the European Target Championships
2002 - Participates to the World Junior Target Championships
2002 - Italian Junior Target Champion and Absolute Women Team Bronze Medal (with Angela Cerrini,
Anna Moschini and Tanja Spiesecke)
2003 - Silver Medal Absolute Team at 2003 Italian Indoor Championships (with Carla Frangilli and Marzia Piantanida)
2003 - Participates to the Athens Pre-Olympic test tournament , with 37th place individual and 4th place Team
(with Valeeva and Navigante)
2003 - Stops the actvitity with the National team up to August, to prepare for high school graduation
2003 - Gold Medal Senior Team (with Chiara Navigante and Angela Cerrini), Gold Medal Absolute Team
(with Chiara Navigante, Carla Frangilli and Angela Cerrini), Silver Medal Senior Individual and Silver Medal
Absolute Individual at 2003 Italian Target Championships)
2004 - Silver Medal Absolute Team at the Italian Indoor Championships (with Carla Frangilli and Chiara Navigante)
Silver Medal for Teams at the European Target Championships in Brixelles (with Pia Lionetti, Cristina Ioriatti and Natalia Valeeva)
Gets the 4th place at the Continental Olympic Qualification tournament in Bruxelles, assigning 3 places for Athens Olympic Games.
Is designated by FITARCO official Alternate for Athens.
Italian Champion 2004 for Outdoor Target Senior Women, Italian Champion 2004 for Teams Outdoor Target
(with Spiesecke and Navigante), Silver medal at Target Italian Championships for Absolute Teams
(with Frangilli, Spiesecke and Navigante)
2005 - 74th individual and 7th with the Team (with Valeeva, Lioneti and Tonetta) at the World target Championships in Madrid
Silver Medal for Senior Women Team at the Italian target Championships (with Chiara Navigante and Gaia Banchelli)
Gold Medal for Absolute Women Team at the Italian Target Championships (with Chiara Navigante, Carla Frangilli and Gaia Banchelli)
2006 - Italian Indoor senior Women Champion , Italian Indoor Absolute women Champion,
Italian Indoor Absolute Women Team Champion (with Carla Frangilli and Gaia Banchelli),
Bronze medal for Senior Women Team at the Italian Indoor Championships (with Gaia Banchelli and Anna Moschini)
8th Individual and 5th with Team at the European Indoor Championships of Jaen - Spain
(with Elena Tonetta and Pia Lionetti)
10th Individual and 5th with Team at the World University Cahmpionships in Vinicne - Slovakia (with Maura Frigeri
and Chiara Navigante)
Silver Medal Women Senior Team (with Banchelli e Moschini) and Silver Medal Women Absolute (with Frangilli and Banchelli)
at the Italian Target Championships


Torneo Qualificazione Olimpica di Bruxelles 2004
Pre Olympic competition 2003 in Athens




Juniores World Indoor Championships 2001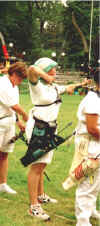 Salice Terme - 1999

Junior World Target Championships 2000

Podium of the Target Italian Championship 2000

Italian Target Cahmpionships 2000

Nimes 2001



Italian 900 Round record 1/05/2001